Face serum is the answer, if you're looking to get more from your skincare routine. In fact, when it comes to skin, serum is bit of a game-changer. Why? Well, these wonder products are packed with actives. Face serums are problem-solvers, they are the step in your routine that is going to tackle any complexion concerns you may have from dullness to dehydration. Sounds impressive, right? Below we reveal precisely what a serum is, how to use one and three morning to routines to try depending on what you're looking for in a routine.
What Is Face Serum?
Face serum is one of the most active steps in your routine. It usually has a consistency that's either watery or lotion-like, and it is this lightweight consistency that enables the potent active ingredients in the formula to drive deeper into the skin where they can get to work.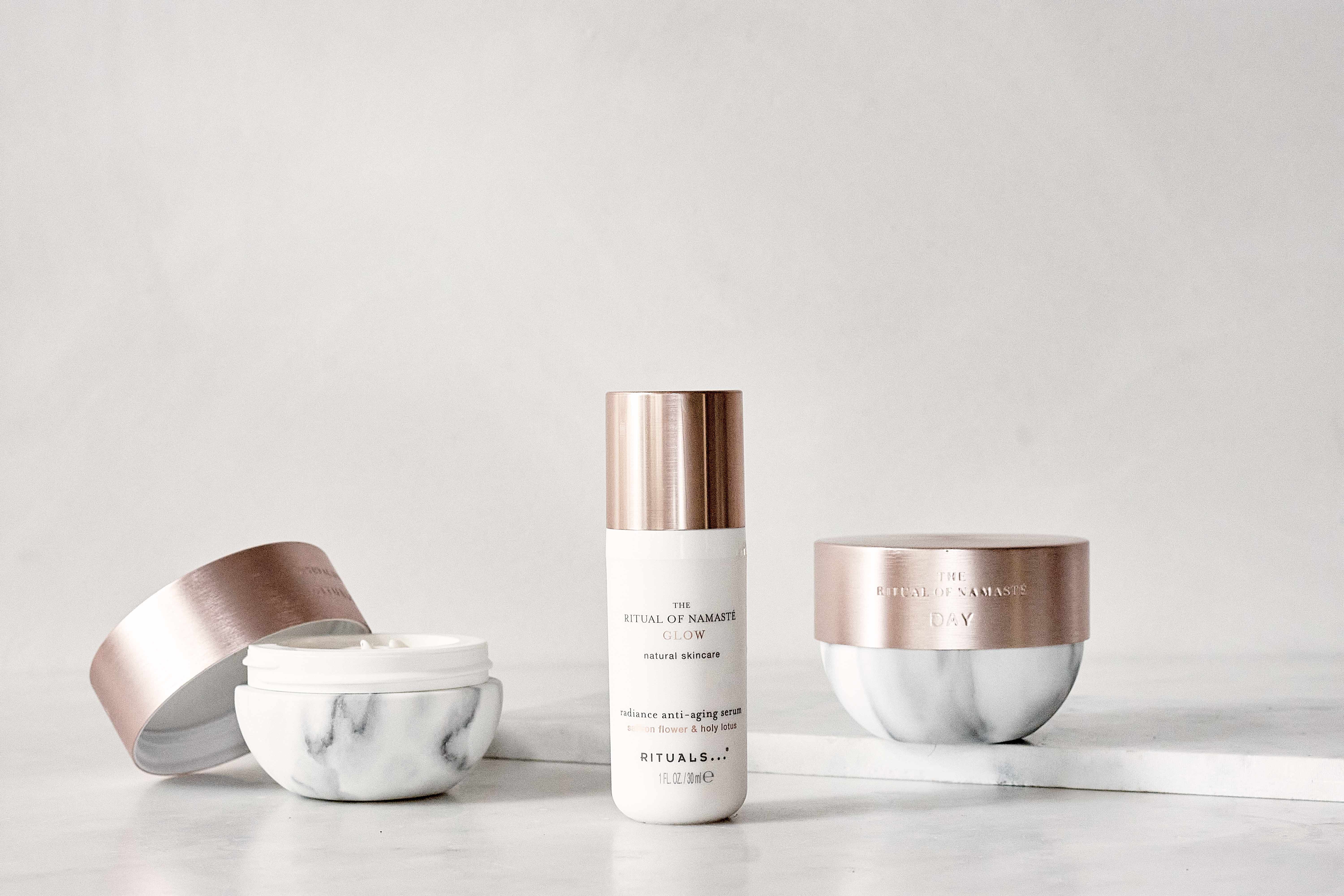 How to Use Face Serum
Let's look big picture. When you're applying any skincare product after cleansing you want to start from the thinnest consistency and layer up to the thickest. It's as simple as that! So, your serum would usually be applied after cleansing and before moisturizer or oil.
Skin Secret: If you exfoliate before applying a face serum, this will help to remove dead skin cells to make way for your serum to drive deeper and work more effectively. This same tip works for face masks, too!
Three Morning Routines to Try
3 Steps to a Radiance Boost
Step 1: Use The Ritual of Namaste Purify Micellar Water. Douse a cotton pad and gently whisk away any lingering dirt or makeup from the night before. With soothing holy lotus and Indian rose, this gently cleanses the skin with no need to rinse.
Step 2: Now, while your skin is still a little damp from the micellar water, massage in a pump of The Ritual of Namaste Glow Radiance Anti-Aging Serum. Take a moment to work the serum into your skin using firm upward strokes on your neck, chin, jawline, cheeks, and forehead. Be gentle around the delicate eye and lip area. The antioxidants from saffron flower protect the complexion, while wild indigo boosts luminosity.
Step 3: Finish with The Ritual of Namaste Day Radiance Anti-Aging Day Cream, this has the same nutrients as the serum, so it will bolster their effects whilst locking in moisture to leave your complexion looking its bright and dewy best.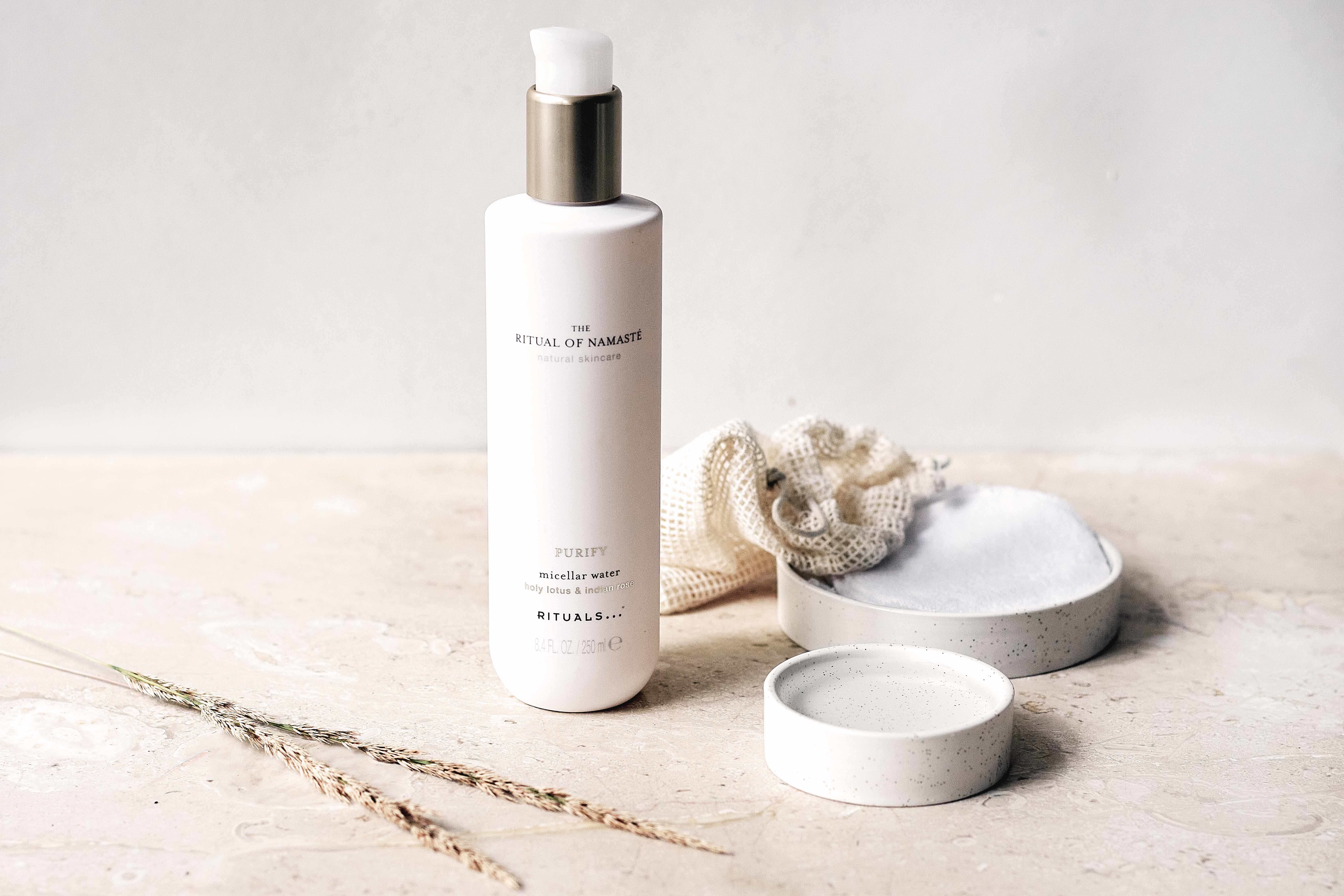 3 Steps to a Clear, Happy Complexion
Step 1: If you're dealing with blemishes, keeping your complexion clean, without it feeling stripped, is key. The Ritual of Namaste Purify Velvety Smooth Cleansing Foam is a mild, soap-free cleanser with nourishing and hydrating moringa and soothing holy lotus.
Step 2: Prevent blocked pores and ramp up glow with a gentle exfoliator like The Ritual of Namaste Purify Skin Brightening Face Exfoliator. With scrub particles from bamboo and another hit of moringa, use this once or twice a week to keep your skin cell turnover boosted.
Step 3: Spot-prone skin is often thirsty, so hydration is key! A lightweight serum like The Ritual of Namaste Hydrate Intense Hydrating Serum that contains soothing Indian rose and hyaluronic acid will ensure your skin is calm, clear, and happy.
3 Steps to Nourished, Plump Skin
Step 1: If you thoroughly wash your face at night, then a lightweight cleanse first thing should be enough; over-cleansing can strip the skin. Take a cotton pad and soak it with The Ritual of Namaste Clarifying Facial Toner, this is packed with soothing holy lotus and hydrating aloe vera, to remove impurities, hydrate the skin and minimise the appearance of pores.
Step 2: Follow with a dose of The Ritual of Namaste Ageless Active Firming Serum, it contains more of that caring holy lotus, alongside gotu kola known for its rejuvenating and anti-aging properties.
Step 3: Finish with a little of The Ritual of Namaste Glow Pure Radiance Face Oil. A cocktail of nourishing oils this contains antioxidant saffron flower and St. John's oil to soothe your skin. Take a moment to massage the oil in using upwards strokes for a plump, glowing, complexion.