This year, we're putting a fruity twist on the traditional chocolate Easter egg. By grilling a whole pineapple and covering it in delicious chocolate and coconut sauce, you get that cocoa kick but in a much healthier form. Not only is pineapple utterly delicious but it's also packed with nutrients that boost your energy and antioxidant levels. Plus, by frying, seasoning and roasting the pineapple, you achieve much more depth of flavour.
You'll notice in this recipe we will use a little bit of sugar. I always prefer to use Fair Trade cane sugar as it contains more nutrients than plain white, and is better for your blood sugar levels.
But whatever you choose, this sweet seasonal delight is bound to put a smile on everyone's face.
Recipe serves: 4
Preparation time:
5 minutes for pineapple
5 minutes for chocolate sauce
Cooking time:
15 to 20 minutes in the oven
Ingredients:
Grilled pineapple:
1 pineapple (whole)
1-2 tbsp of sugar
1 tsp of cinnamon powder
1/2 tsp of cardamom powder
a pinch of cayenne pepper powder (or chili powder)
Chocolate and coconut sauce:
150 g cacao butter
250 g coconut milk
80 g sugar
½ vanilla bean sliced length way deseeded
1 tbsp maple syrup
cacao powder (1 tsp for light chocolate colour and flavour, 2 or more for dark chocolate.)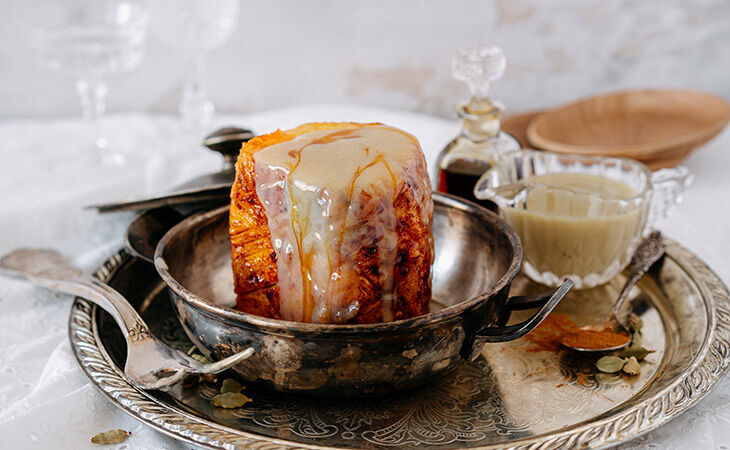 Instructions:
1. Preheat your oven to 180 degrees Celsius
2. Peel your pineapple whole and score it with a knife. Scoring the pineapple helps the flavours absorb deeper into the fruit.
3. Lightly oil a non-stick pan and put on low heat. Once hot, add your whole pineapple and sprinkle the spices and sugar over the top. Turn every few minutes so that it gently caramelises and is golden brown on all sides.
4. Once done, place the pineapple onto a baking tray and roast for about 15 - 20 minutes.
5. Now, it's time for the sauce! Add all the ingredients into a saucepan and whisk until smooth. Keep the sauce on a low heat to prevent sticking or burning.
6. For a more intense chocolate flavour, add cacao powder to taste. Make sure you thoroughly whisk this into the sauce.
7. Once the pineapple is ready, carve it at the table and dress with the sauce. For an extra special flourish, serve with fresh berries, toasted nuts or coconut flakes to sprinkle on top, plus a generous scoop of vanilla ice cream on the side.
Want to experience Renaud's cooking for yourself? Renaud is head chef of Rouhi, a fine dining Asian fusion restaurant located at House of Rituals in Amsterdam, The Netherlands. For bookings, click here. And for the latest news, events and recipe updates, follow @restaurantrouhi on Instagram.