Christmas is a time for cheer, for making happy memories and being grateful for the loved ones in your life. Whether you are able to travel to spend the holidays with your family or you're staying closer to home, perhaps with friends, this time of year calls for festive tunes, cocooning by the blinking Christmas tree and enjoying elaborate dinners. But hang on, whoever said Christmas dinners will always tip the scale at 'heavy, greasy and indulgent' hasn't seen our recipes. Our in-house chef Mirjam Leslie-Pringle has created the perfect Christmas menu that's as healthy as it is delicious and won't make you feel like you're missing out. This year, it's less about the fuss and more about the flavours.
Keep the holiday light with a 10-vegetable soup for starters, steamed white fish as your main and two delicious side dishes. Looking for a dessert recommendation? Check back in a few days, we're keeping it as a surprise!
Healthy Christmas menu starter: 10-vegetable Chinese soup
Serves for 4 to 6 people
Preparation time:
1 hour and 20 minutes (it takes an hour to infuse the broth)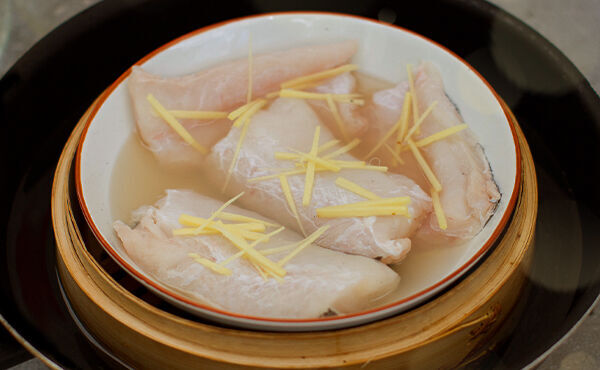 Ingredients for the broth:
2 tbsp olive oil for frying
1 red onion, roughly chopped
4 cm ginger, peeled and diced
3 garlic cloves, diced
1 tsp salt
1 carrot, sliced
2 celery sticks, diced
2 spring onions, roughly chopped
A generous handful of coriander, cut into small pieces, including the stems
2 L water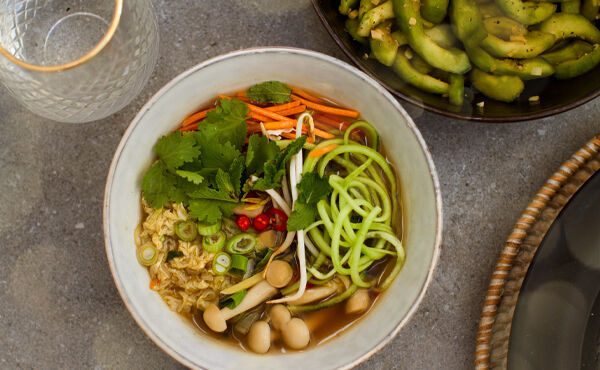 Ingredients for the soup:
1 tbsp ginger, ​​julienne cut
1 tbsp soy sauce
1 tsp white sugar
100 g mini mushrooms (shimeji mushrooms, shiitake or oyster mushrooms), cut into small pieces
1 tomato, deseeded and cut into strips
2 stems (large) bok choy. Cut off the green leaves along the edges and then into small strips together with the white stems
100 g snow peas, remove the threads and cut into thin strips
1 carrot, ​​julienne cut
2 handfuls of Chinese cabbage, finely chopped
1 tbsp sesame oil
1/2 cucumber twisted into long strands with a spiralizer or simply julienne cut
Coriander leaves (bunch)
Mint leaves (bunch)
Bean sprouts for garnish
2 spring onions, cut into thin rings
1 large red pepper, cut into thin rings
Preparation for your broth:
Heat the olive oil in a thick pan, and add the onion, ginger, garlic and salt. Stir fry this for a minute or two on a high heat. Then add the carrot, celery, spring onions and coriander. Turn down the heat a bit and stir fry for a few more minutes. Finally, add your water and bring everything to a boil. Let this simmer for an hour on a low heat with the lid on. When the hour is up, drain the broth through a sieve and collect it in another pan.
Preparation for your soup:
Bring the stock to a boil. Add your ginger, soy sauce, sugar and stir well. Turn down the heat, then add the tomato and shimeji mushrooms. Cook for 2 minutes before adding the bok choy, carrot, snow peas and Chinese cabbage, and cook for another minute.
Turn off the heat and stir in the sesame oil before plating your dishes. Garnish with the cucumber strings, mint, coriander, spring onion, bean sprouts and red pepper – et voilá!
Healthy Christmas menu main: white fish with ginger and spring onions
Serves 4 people
Preparation time: 20 minutes
This is a very simple dish, but your end-result really depends on the quality of your fish. You can use different types of white fish, such as cod, sea bass, sea bream, etc. I used cod for this recipe.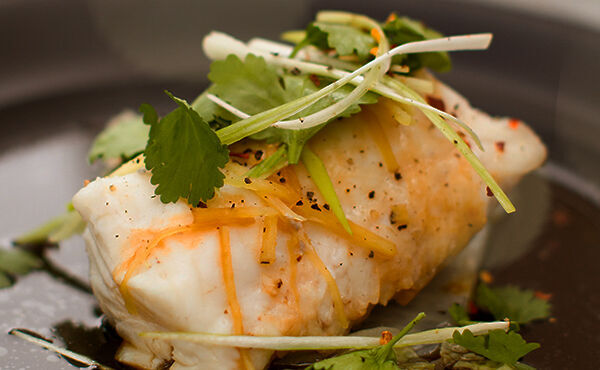 Ingredients:
400 g white fish
80 ml water
2 tbsp dry sherry
2 tbsp ginger, ​​julienne cut
1 large Chinese cabbage leaf
1/2 tsp white sugar
2 tbsp soy sauce
1/2 tsp sesame oil
1 spring onion, julienne cut into strips of 2 to 3 cm
5 tbsp peanut oil
Generous handful of coriander leaves
Necessary tools:
Steamer basket large enough to hold the bowl with your fish.
Preparation:
Place your four pieces of fish into a bowl that fits into your steamer basket. Pour the water and sherry over the fish, followed by 1 tbsp of ginger. Close the steamer basket tightly, then place it in a large pan filled with boiling water. Let this steam for about 6 minutes. Make sure to top up the water when you see the water line going down.
Cut the cabbage leaf into 4 pieces and place it around the bowl in the steamer basket, let it all steam for another 2 to 3 minutes until the leaves are soft and the fish is cooked through. You can tell if your fish is properly cooked if the flesh has turned a lovely pearly white. If it's still transparent, continue steaming for another minute.
Remove the steamer basket from the pan. Take out the cabbage leaves and divide them over the plates. Arrange the fish on top and pour the remaining liquid from the bowl over your plated fish. Sprinkle the fish with sugar, followed with the soy sauce and sesame oil.
Garnish with the remaining ginger, spring onion, cilantro and black pepper.
Healthy Christmas menu side dish: warm zucchini side salad with green asparagus, snow peas and baby corn
Serves 4 to 6 people
Preparation time: 15 minutes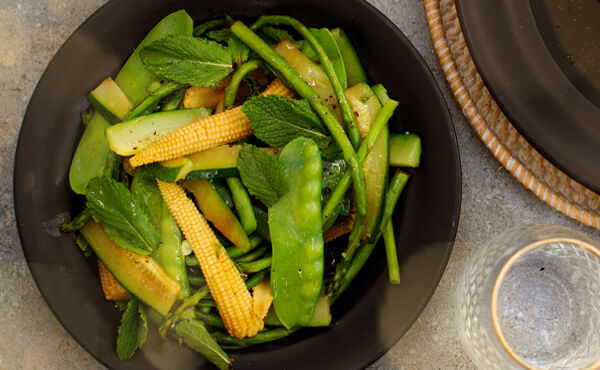 Ingredients:
1 bunch green asparagus, you only need to cut them if they're quite thick
2 medium zucchinis, halved lengthwise, deseeded and cut into angled, thin slices
6 baby corn cobs (canned or fresh) halved lengthwise
150 g snow peas, remove the threads
Mint leaves (bunch)
Vinaigrette:
60 ml soy sauce
3 tsp white sugar
2 tsp sesame oil
2 tbsp olive oil
Preparation:
Bring a large pot of water – add some salt – to a boil and blanch the zucchini, asparagus and baby corn for about 40 seconds. Add the snow peas and blanch for another 20 seconds. However long it takes for all your vegetables to be bright in colour and al dente, not too soft! Drain quickly and let it sit for a while.
Prepare the vinaigrette by mixing your soy sauce, sugar and sesame oil. Heat up 2 tbsp of olive oil in a pan before adding directly it to the other ingredients.
Mix all the vegetables in a bowl, add your vinaigrette, and toss with the mint leaves.
Healthy Christmas menu side dish: pickled cucumber side salad
Serves 4 to 6 people
Preparation time: 10 minutes (+30 minutes in the refrigerator)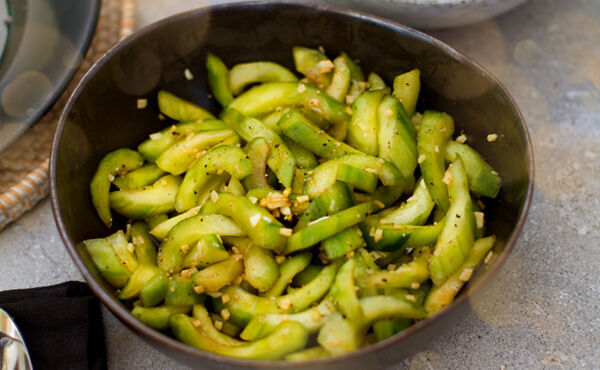 Ingredients:
2 cucumbers, peeled, halved in length, deseeded, and cut into angled half slices
1 tbsp white sugar
1 tsp salt
black pepper, coarsely ground
Vinaigrette:
2 tbsp soy sauce
2 garlic cloves, finely chopped
1 tbsp fresh ginger, finely chopped
1/2 tsp sesame oil
Preparation:
Place the cucumber slices in a bowl and sprinkle with your sugar and salt, stir well. Cover the bowl and place it in the refrigerator for 30 minutes.
In the meantime, prepare the dressing by mixing the soy sauce, garlic, ginger and sesame oil.
Get your cucumber from the fridge and drain of all the moisture. Try to wring out any excess water with your hands. Drizzle and sprinkle your cucumber with the vinaigrette and black pepper, and you're ready to serve!
And remember, stay tuned for dessert!