Rituals is all about well-being, and food is an important part of that. The right nutrition can help you heal your body, prevent disease and achieve optimal health.
This time of year, it's extra important to seek out foods that will help you detox from holiday excess (hello pie and cocktails) and boost your immune system to fight off colds and the flu. Luckily, the holiday season not only brings lots of food-centric festivities – it brings lots of super healthy winter vegetables too. It's the perfect time to feast on nourishing foods like kale and cauliflower.
Kale gives your liver a well-deserved detox, reduces inflammation and reinforces your immune system with a hefty dose of vitamin C.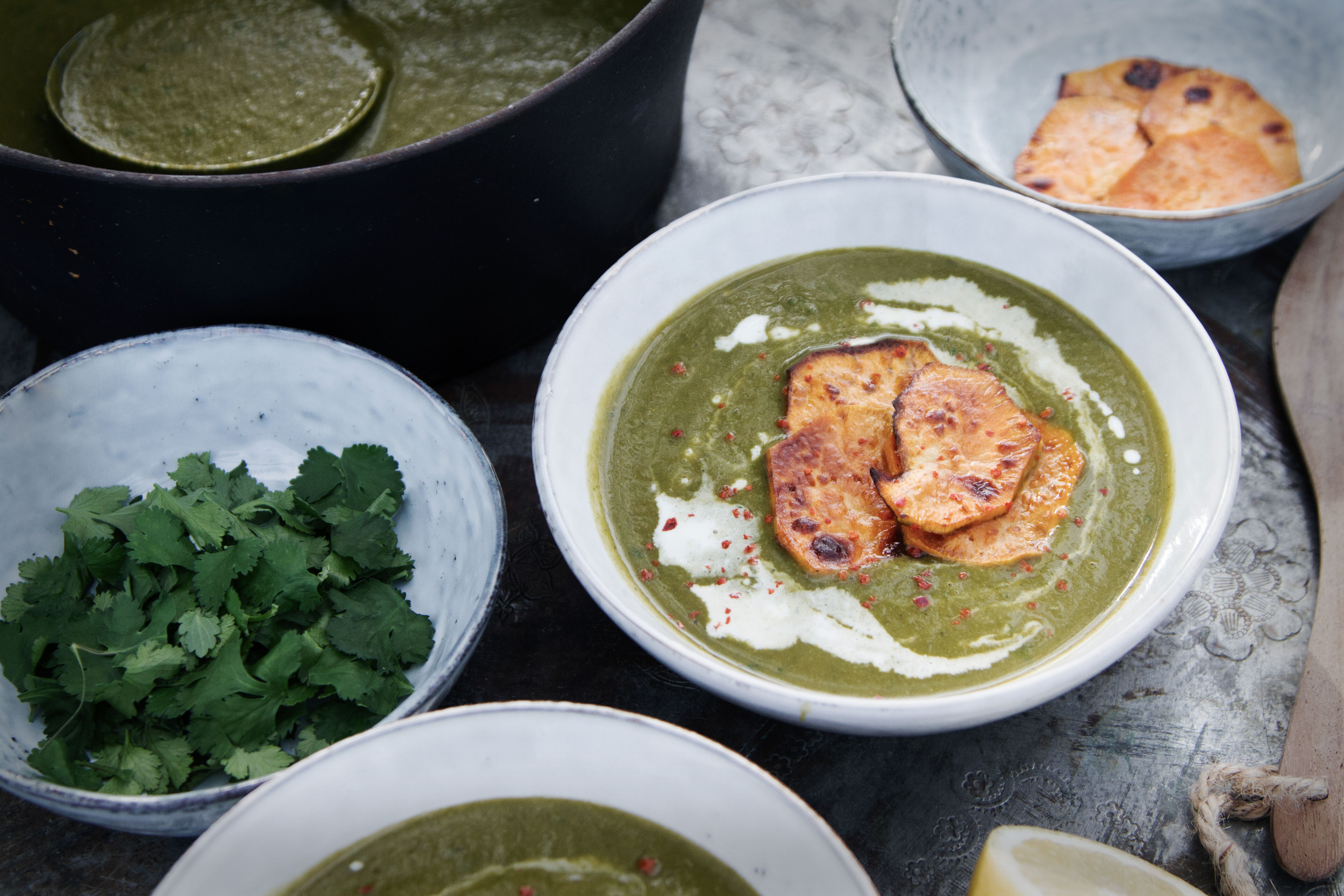 Indian Kale Soup
Comfort food doesn't have to be bad for your body. This delicious soup contains kale, which is low in calories and extremely high in fibre. The sweet potato chips give it a crunchy texture—a true treat for your taste buds.


Recipe for 4 people
Ingredients
1 L bouillon, made from 2 vegetarian and organic vegetable bouillon cubes
1 big white onion, diced
2 cloves of garlic, finely sliced
4 tbs mild olive oil
300 g sweet potatoes, and some extra to slice into thin pieces for frying
½ tsp curry powder
½ tsp turmeric powder
200 g cut kale
1 handful of coriander
juice from half a lemon
organic soy cream to garnish
chili flakes to garnish
Preparation
1. Place a pan with 1 liter of water and two bouillon cubes on low heat until it starts to boil.
2. Stir the onion for about five minutes in 4 tbs of olive oil and then add the finely sliced garlic and cook for around one minute.
3. Add the blocks of sweet potato, the turmeric and the curry powder and cook it for around 5 minutes, stirring it often. Add everything together with the kale into the bouillon. Let it simmer under a covered pan for 20 minutes.
4. Meanwhile, fry some thinly sliced pieces of sweet potato in a drop of olive oil on low heat. Be sure to watch it closely, because it can burn fast.
5. Remove the pan from heat, add the coriander and the lemon juice and use a hand mixer to turn into a smooth soup. Add salt and pepper to taste and drip some cream over the bowls.
6. Garnish with sweet potato chips and chili flakes to taste.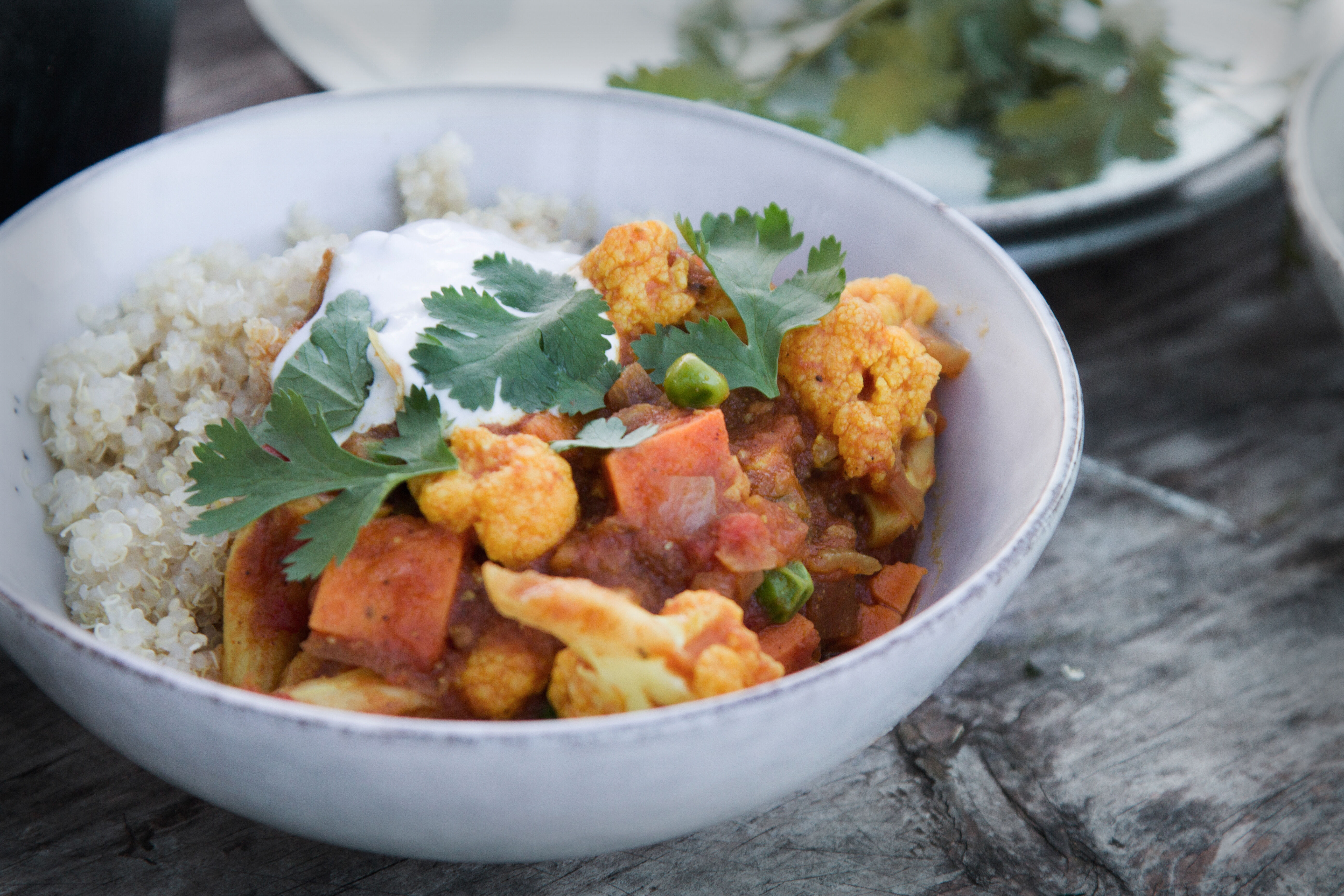 Cauliflower and Sweet Potato Masala
Masala is the Hindi word for "spice," and this Cauliflower and Sweet Potato Masala lives up to its name. Although it's often served as a side dish, this recipe is hearty enough to be an entrée. Serve it with brown rice or quinoa and it's a healthier alternative to the white rice version.


Recipe for 4 people
Ingredients
4 tbs regular olive oil
2 red onions, diced
4 cloves of garlic
2 tbs fresh ginger, finely chopped
1 tbs cumin
6 tomatoes, in small cubes
1 tsp turmeric
1 tbs Garam masala
1 tsp coriander powder
1 tsp chili powder
1 small to medium cauliflower (around 600 g) in florets
500 g sweet potatoes, peeled and in 1 cm cubes
200 ml water
150 g peas (frozen)
about 3 tsp salt and freshly ground pepper
small handful of coriander leaves to garnish
4 tbs Greek yogurt
brown rice or quinoa
Preparation
1. Prepare the rice or quinoa according to the instructions on the packaging.
2. Warm the oil in a tall pan (one with a lid) and add the diced onion and cumin. Mince the cloves of garlic with a press and add this along with the ginger. Cook for around 5 to 7 minutes, or until the onion slowly starts to colour.
3. Add the tomato cubes and cook while stirring for about 5 minutes, or until the tomato begins to look like a sauce.
4. Stir it vigorously and add cubes of sweet potato and the cauliflower. Cook it through and add the water. Bring the mixture to a boil, set the heat low and cover the pan with a lid. Stir occasionally for around 20 minutes, adding the peas in the last five minutes.
5. Serve with brown rice or quinoa, a tbs of Greek yogurt and some fresh coriander.