Whether you're going dry for January, catering for those who are, or just really fancy a wholesome but decadent drink to mark a special moment, these non-alcoholic cocktails will put a smile on your face and some fizz in your glass.
BLUEBERRY-GINGER TONIC
Serves 4
INGREDIENTS
250ml blueberry juice |3 tsp peeled and grated fresh ginger |250ml tonic water |400ml sparkling water |zest of 1 lemon |handful of blueberries
Mix the blueberry juice and ginger in a measuring cup and infuse for 5 minutes. Strain the blueberry mixture into a large jug. Add the lemon peel, crushed ice, tonic, sparkling water and a few blueberries. Stir well before pouring into glasses.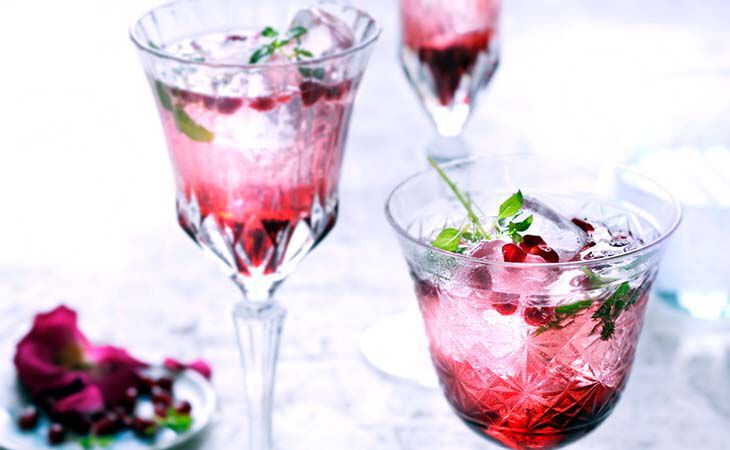 GINGER ALE SOUR WITH CUCUMBER AND LIME LEAVES
Serves 2
INGREDIENTS
1 lime | 4 lime leaves, frozen | 4 slices cucumber | 300ml quality ginger ale | Ice cubes
Take 2 glasses and squeeze half a lime into each glass. Add the squeezed lime, lime leaves and cucumber to each glass, pressing firmly with a spoon to release the flavours. Fill the glasses with ice cubes and add the ginger ale. Stir well before serving.
BLOOD ORANGE, HONEY AND VANILLA MOCKTAIL
Recipe for 4 mocktails
Preparation time: 10 minutes
INGREDIENTS
6-8 blood oranges | 4 tsp runny honey | 12 drops of vanilla extract | 800 ml of sparkling water | Ice cubes | 12 drops of bitters
PREPARATION
Squeeze the juice from the blood oranges into mason jars with a lid or a cocktail shaker. Add the honey, the drops of bitters and drops of vanilla extract to the unchilled juice. Shake well and add ice to cool it down. Pour evenly into four ice filled glasses. Top with sparkling water and add a slice of blood orange on top.
Lemon and passionfruit spritz with Orange Blossom
Serves 4
INGREDIENTS
4 passion fruits | juice and grated zest of 2 lemons | 4 mint sprigs | 800ml sparkling lemon soda | 1 tsp orange blossom water | ice cubes
Scoop the flesh from the passionfruit into a large jug. Add the lemon zest, juice, mint, lemon soda and orange blossom water and fill the jug with ice cubes. Stir well and pour into glasses to serve.
Tip: Want to make beautiful floral ice cubes? Just add some edible flowers to ice cube moulds. Gently fill with water and place them in the freezer until ready to use.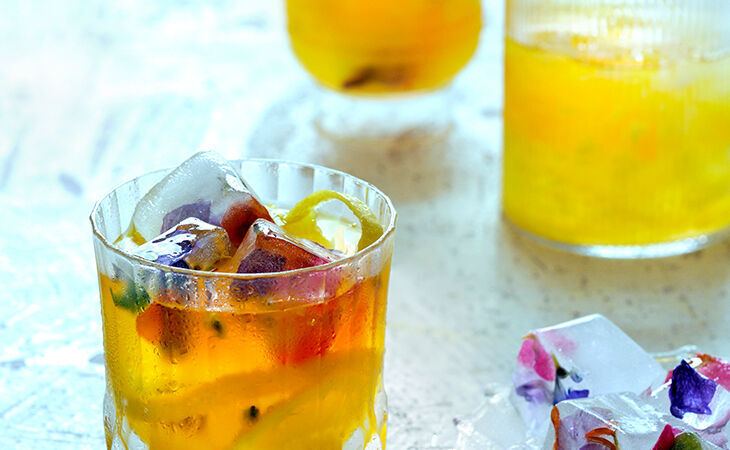 POMEGRANATE-BASIL TONIC
Serves 4
INGREDIENTS
100ml water | 70ml pomegranate molasses (or syrup) | 4 star anise | 800ml tonic water | Handful fresh basil leaves
Bring the water, pomegranate molasses and star anise to a boil in a small saucepan and turn off the heat. Let the ingredients infuse for 10 minutes. Divide the pomegranate mixture among 4 glasses, add a few basil leaves and fill the glasses with ice. Top each glass with 200ml tonic. Stir well before serving.
Virgin Mojito
Recipe for 4 mocktails
Preparation time: 10 minutes
INGREDIENTS
4 tbsp (cane) sugar | bunch of mint | 12 limes, juiced | 800 ml soda water | crushed ice (or crush some ice cubes between a tea towel using a rolling pin)
PREPARATION
For 4 mocktails: muddle 2 tbsp of sugar with half the leaves from the mint using a pestle and mortar (or use a small bowl and the end of a rolling pin). Put a handful of crushed ice into 4 tall glasses. Divide half of the lime juice between the glasses with the mint mix. Stir well, add a straw and top up with soda water.
Sweet Lemon fizz
Serves 4
INGREDIENTS
1 cup water | 1 cup sugar | 4-6 lemons | 4 cups of cold (sparkling) water
Start off with the syrup, because it needs to cool in the fridge before you can mix it with the lemon juice. Once cool, mix your strained or unstrained lemon juice with the syrup, stir well and add cold flat or sparkling water.
Mango daquiri with rosewater and lime
Serves 4
INGREDIENTS
250g mango flesh, fresh or frozen |21⁄2 tbsp sugar |50ml water |11⁄2 tsp rosewater |2 limes |4 mint sprigs, leaves picked |600ml sparkling water |crushed ice
Place the mango, sugar and water in a saucepan and simmer for 5 minutes. Using a hand blender, puree until smooth. Stir in the rosewater and allow to cool. Divide the mango mixture among 4 glasses. Add the juice of half a lime to each glass and add some mint leaves and crushed ice. Top each glass with 150 ml of sparkling water. Stir gently before serving.
FRESH AND SOUR MOCKTAIL
Recipe for 4 drinks
INGREDIENTS
1 cucumber | 8-10 mint leaves | 1 lemon | 25cl of black tea | 10 cl of elderflower syrup | soda water (optional)
PREPARATIONS
Peel the cucumber and cut it into big slices. Combine the juice of the lemon with the black tea (chilled) and elderflower syrup in a blender. Then add the cucumber to the blender and mix it all together. Strain the liquid to remove the mush. Serve the mocktail in 4 glasses (rocks/small type) with or without ice.
Want to enjoy it as a fizzy drink? Add some soda water. If you like your mocktail a little thicker, don't strain it completely.