At Rituals, we're committed to making a positive impact on the world and implementing environmentally-friendly improvements wherever we can. We also take a holistic approach when selecting our ingredients, packaging, materials and fabrics, taking multiple aspects into account to make actual sustainable choices. Reducing the environmental impact of our business is key to us and is constantly on our minds. To do so, we measure, monitor and initiate improved practices throughout the company, from packaging and ingredients to operations and supply chain. Read on below for more on all the ways shopping at Rituals helps you do your part for Mother Earth.
OUR PACKAGING
With every product we develop, we work to create packaging that is optimally fit for purpose in terms of functionality, resource use, waste reduction, and environmental impact. We're committed to realising our goal of zero-waste packaging by 2025, meaning all our products will be either refillable, recyclable and/or made from recycled material. Next to that, we follow the principles of the 3 Rs: Refill, Reduce, Recycle.
Rituals offers stylish refill solutions for all our body creams, fragrance sticks, skincare products, hand wash, car perfumes and shaving creams. This sustainability approach ensures you as a customer can continue to enjoy your favourite items at a lower price while being conscious of the planet too. But that's not all. This also helps our brand to reduce the amount of material needed wherever possible.
Thanks to our loyal customers choosing eco-friendly refills, we significantly saved on water, waste, energy, and CO2e used, as you can see in the image below.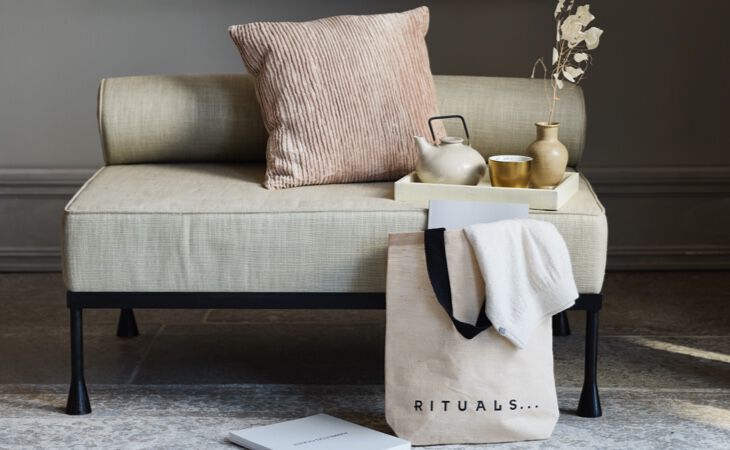 REDUCE PLASTIC & WASTE
In 2020, we introduced recycled PET plastic for all our body creams, body scrubs, bath foams, shower oils and fragrance sprays. Our aim is to further increase the share of recycled materials in our product packaging.
Our iconic shower foam now has a lightweight can that reduces the use of aluminium by 10%. Over the years, we have made our gift set packaging smaller and stopped using carton boxes for multiple products. These are perfect examples of how we work on both visible and invisible packaging reductions. And we won't stop here; we will keep on reducing the amount of materials we use.
Did you notice your delivered products seamlessly fit into the box That's because our biggest web order fulfilment partner now uses B+ equipment, a void reduction packaging solution. This change allows us to save on cardboard, void filling materials and energy in transport.
SUSTAINABLE INGREDIENT CHOICES
We have a product evaluation tool that evaluates our ingredients on natural origin, biodegradability, ecotoxicity, carbon footprint and responsible sourcing. In this way, we ensure a sustainable ingredient selection. We also ensure all our rinse-off formulas are readily biodegradable and safe to wash away down the drain. Besides, not a single Rituals product is tested on animals – never has and never will be. The same commitment toward sustainability applies to our fabrics at House of Rituals. We do so by choosing natural fabrics, such as cotton, viscose or TENCEL™ Lyocell. When certain synthetic materials are a must - to guarantee a specific function or quality -we choose the absolute best option available. As a member of the Better Cotton Initiative, 100% of our cotton will be responsibly sourced by 2023.
LIFE-CYCLE ASSESSMENTS
We are constantly working on our packaging to improve recyclability and increase the amount of recycled materials used. All our packaging is assessed by The LCA Centre, according to the forensic life-cycle assessment (LCA) method. This helps us understand the environmental impact of our current and future packaging solutions and possible alternatives and make rational decisions on all materials we use.
REEF SAFE SUN CARE
Our sun care collection provides nourishment and a wonderful fragrance, as well as protection for both you and the environment. In compliance with the Hawaiian reef-safe sunscreen law, all our sun care is free from Hawaiian-banned ingredients that can cause coral bleaching and harm ocean life.
GREEN STORES & GREEN DELIVERY
At Rituals, we mainly work with specialised European partners for the manufacturing and distribution of our products. This means that we engage with our suppliers and distribution partners to reduce the impact of the production & distribution of our products.
Our Dutch stores & offices run on green energy. We're currently consolidating our energy contracts per country to switch to green energy on a global scale. Our stores are all equipped with LED and eco-friendly air conditioning.
We strongly prefer sustainable fulfilment & logistics partners and mainly use low emission transport like road & sea to replenish the stock for our stores, travel & wholesale partners. We initiated a new delivery programme, by fulfilling orders in-store and shipping by bike. Finally, we aim to have our last-mile delivery without emissions by 2030, so we frequently track our partners' progress on electric delivery.
YOU'RE BUYING LOCAL
To minimise our footprint, we produce around 90% of our products in Europe. Making high-quality products close to our main markets minimises our environmental impact by requiring less (air freight) transport.