Soups are always nice and these kinds of easy noodle soups are especially good. We are less used to adding cucumber to warm dishes, but in Vietnamese cuisine, you see it a lot. And why not—it gives the dish a fresh and crispy twist! Make sure you wait until the last moment to add it. That way, you keep that delicious bite.
Recipe for 4 people
Preparation time 25 minutes
Ingredients
1.5 L water
3 chicken bouillon cubes
400 g chicken thighs
3 tbs light brown sugar
1 tbs freshly grated ginger
1 lime, halved
2 cloves of garlic, finely chopped
2 large carrots sliced in thin strips of around 4 cm long
200 g rice noodles
4 (large) stalks of spring onion in thin rings
½ cucumber, with skin in thin strips of around 4 cm long
1 large red chili pepper, in rings
soy sauce to taste
pepper and salt
handful of fresh cilantro to garnish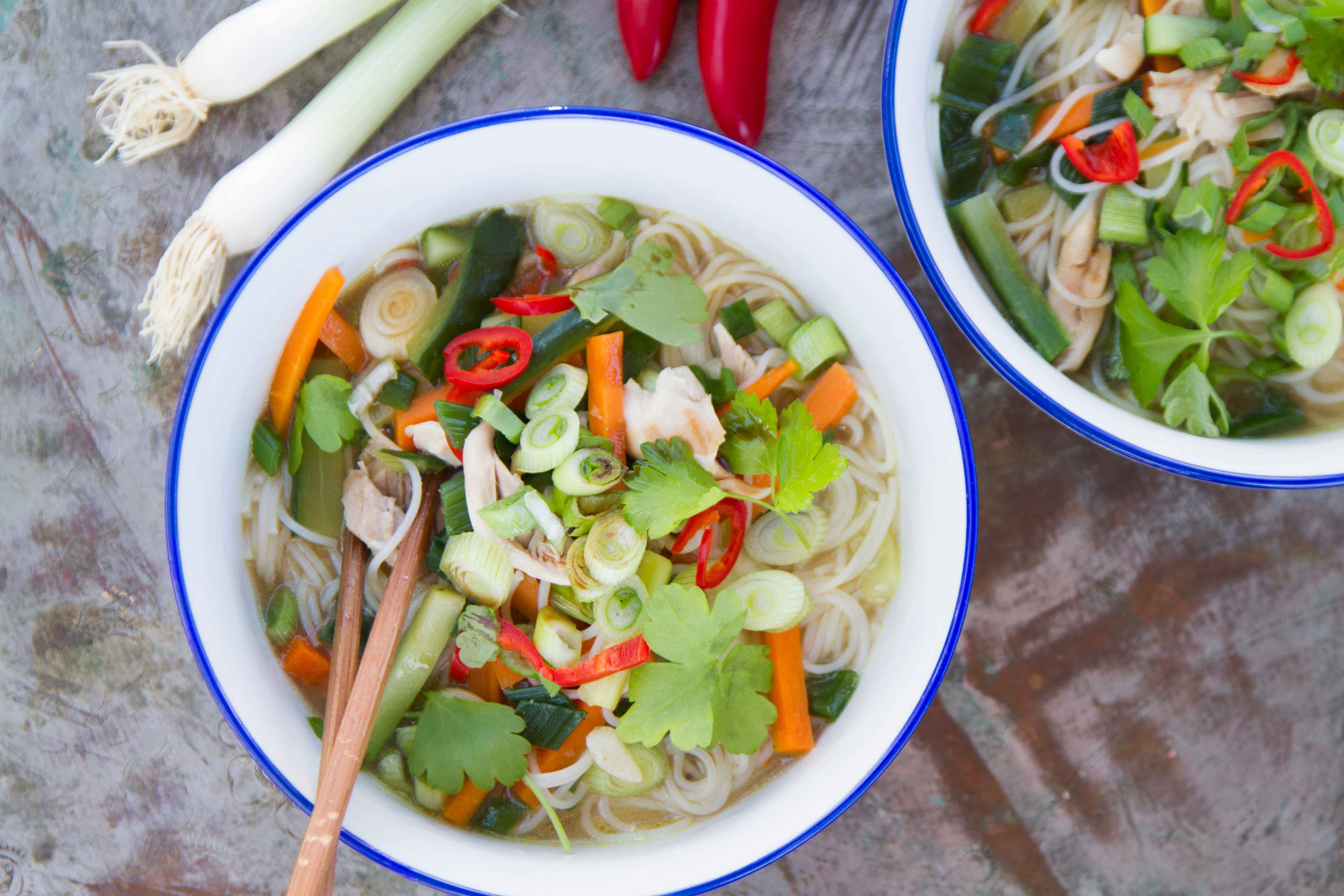 Preparation
1. Bring the water together with the chicken bouillon cubes and brown sugar to a boil, then add the chicken thighs. Add the garlic along with the ½ lime and fresh ginger. Let this simmer for 15 minutes in a pan with a closed lid.
2. Remove the chicken thighs and "pull" the meat with two forks from the bone into strips. Put the soft chicken meat back into the pan, add the rice noodles, carrot, half of the spring onion and half the chili pepper and cook for another 3 minutes, or until the rice noodles are done.

3. At the last minute, add the cucumber, so that it stays crispy yet still gets warm. Add the other half of the lime to the soup, a dash of soy sauce and salt and pepper, all to taste. Pour the soup into four bowls and garnish with fresh cilantro and the leftover spring onion and chili pepper.