As we begin to emerge from the challenges of the past year and look forward to spending more time with loved ones, it's useful to be mindful of the lessons we can learn about spending more time alone. While there have likely been moments of loneliness, experts agree that spending time alone in positive ways can be enriching for the mind, body and soul.
"It's important to point out that there is a big difference between being alone and being lonely," says psychologist and life coach, Jivan Dempsey. "Loneliness is an emotional state. It can leave you feeling cut off, evoke feelings of missing out and that can lead to social isolation," she explains. On the flip side, being alone can be a healthy choice, says Dempsey, and an effective way to reconnect with yourself. An opportunity to rest, recharge and rejuvenate.
How can I stop feeling lonely?
If you find yourself caught in moments of loneliness, Dempsey's advice is to listen to those feelings and focus on reframing your experience. "You need a mental shift from feeling lonely to feeling at ease and even embracing and celebrating your 'aloneness'," she says. "Making a conscious decision to embrace the emotional and mental advantages of having your own time can help you overcome your fears and, as a result, help you become more confident in being alone. There are so many advantages to being alone by choice – time to focus on your own thoughts, spoiling yourself, and being selfless in being selfish."
With Dempsey's tips in mind, try these six ways to be happy alone, and turn moments of solitude into a meaningful experience.
1. Plan for joy
Whether you have a day, afternoon or just a few hours to yourself, set your intentions for the time ahead and plan to do something that'll make you feel good. "Despite life's ups and downs you can encourage your mind to spot the positives in your life more easily," explains life coach Isabella Venour.
"The simple act of thinking about the day ahead and anticipating what will bring you joy can help you register the moment as a core part of your day, rather than allowing it to slip by. This practice helps us become more resilient and we start to see negative moments as short-term blips. I choose to prime my mind while I'm in the shower by asking two simple questions - what am I looking forward to today? How can I inject a little joy into someone's life today?"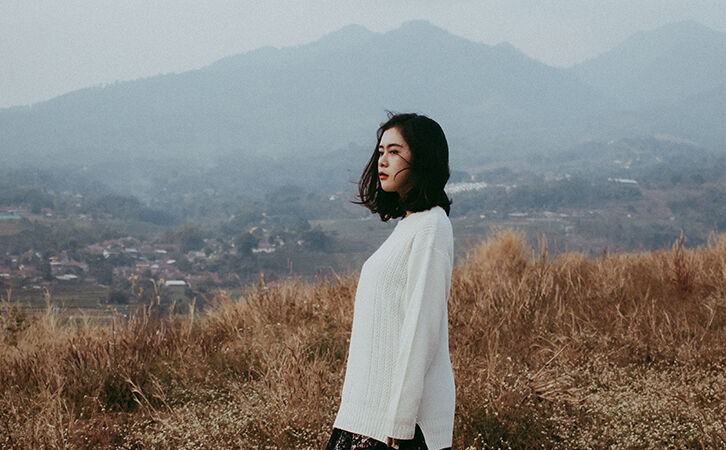 2. Rediscover reading
Between constant scrolling on our phones and working at a computer all day, many of us need to slash our screen time. Enter the transformative pleasure of getting lost in a good book - with the added benefit of zero interruptions. Not only is reading a fantastic way to unplug with endless options to suit all moods and interests; it's also a proven way to help combat feelings of stress or anxiety. According to a study led by neuropsychologist Dr. David Lewis, just six minutes of sustained reading can reduce stress levels by an incredible 68 per cent. If you're looking for a new read try these life-affirming recommendations from artist Satsuki Shibuya.
3.Get cooking
Whether it's slicing and dicing for a soul-warming curry, kneading your way to a freshly baked loaf or whipping up a delicious dessert, creating a meal from scratch is a rewarding way to spend some quality time alone. "Make something and sit and eat it slowly," suggests author Andi Simon, Ph.D. "Savour each bite and enjoy all the different flavours and tastes." Need some inspiration? Delve into our mouth-watering recipe collection.
4. Move your body
Get those happiness-inducing endorphins coursing through your system by limbering up for some exercise. Whether you shake it all out in a solo dance session, go for a jog through the park to soak up some scenery or roll out your mat for yoga practice, it'll help to rejuvenate both mind and body. Crank up the mood-boosting tunes with our Spotify playlist, or try a new flow with one of our expert yoga videos.
5. DIY spa experience
There are few better ways to truly relax than lighting a scented candle, drawing a warm bath infused with your favourite aroma, and soaking away any stresses or strains. It's also a great time to introduce some meditation to your day, while you enjoy the simple bliss of slowing down. Treat your skin to a nourishing face mask while you soak and finish up with some soothing self-massage.