This month, we introduced you to our new Iconic Collection of 10 luxury eaux de parfum. This is how you can refill, reuse and recycle the beautiful bottles
As a B CorpTM that has fully committed to becoming Net-Zero by 2050, we are constantly looking for ways to reduce our carbon footprint and create less waste. This month, we introduced our Iconic Collection of 10 beautifully crafted eaux de parfum, and this is what we have done to make them more sustainable.
Recyclable
According to data by Zero Waste Week, it's estimated that the beauty industry produces 120 billion units of packaging every year, most of which is not recyclable. If you think of some of the most popular perfumes, it's usually 'more is more' when it comes to the bottles. Though the glitz and glam of a big ribbon or abstract design is fun, it's often not sustainable. Although most bottles are made from glass, extra detail with metal and plastic can be hard (or impossible) to remove, meaning they can't be recycled. That's why we've taken a no-frills approach to our bottles. Still elegant, still beautiful but 100% recyclable - all our perfume bottles can disassemble completely. You can take the wooden cap off, unscrew the metal top and pop them in their relevant recycling bins. Make sure you wash them out first and take care not to break the glass as this can make it more difficult to sort.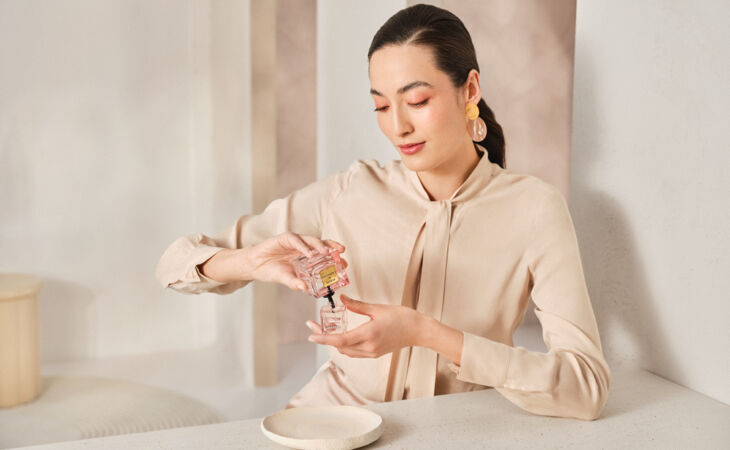 Refillable
We all know the key to being a fragrance goddess is regular top-ups, so there's nothing handier than finding a perfume small enough to fit in your handbag. Our Iconic Collection is rich with 10 travel-sized perfumes (one to match each full-size version). And what's more – with our new refill spout, you can easily refill your smaller bottle from your full-sized eau de parfum. This means you will only ever need to buy one travel-sized bottle and just top it up whenever necessary.
Reusable
As well as recycling and refilling your perfume bottles, why not get creative and give that gorgeous, coloured glass a new lease of life? We think they make the perfect bud vase! If you've got a few different coloured bottles, try filling them with a sprig of flowers and dotting them around a dinner table, mantelpiece, or bedside table. Do you have any other ideas for how to reuse your preloved perfume bottles? Let us know by messaging @ritualscosmetics. We have lots more ideas on how to upcycle other pre-loved Rituals products that you can read here.