One thing that Ayurveda teaches us is that even the simplest things can make the biggest difference. We at Rituals know that the same goes for food: the more natural and fresh the ingredients we use are, the better we'll feel. We've selected these exclusive recipes inspired by India, the birthplace of Ayurvedic balance, to feed your body and nourish your soul.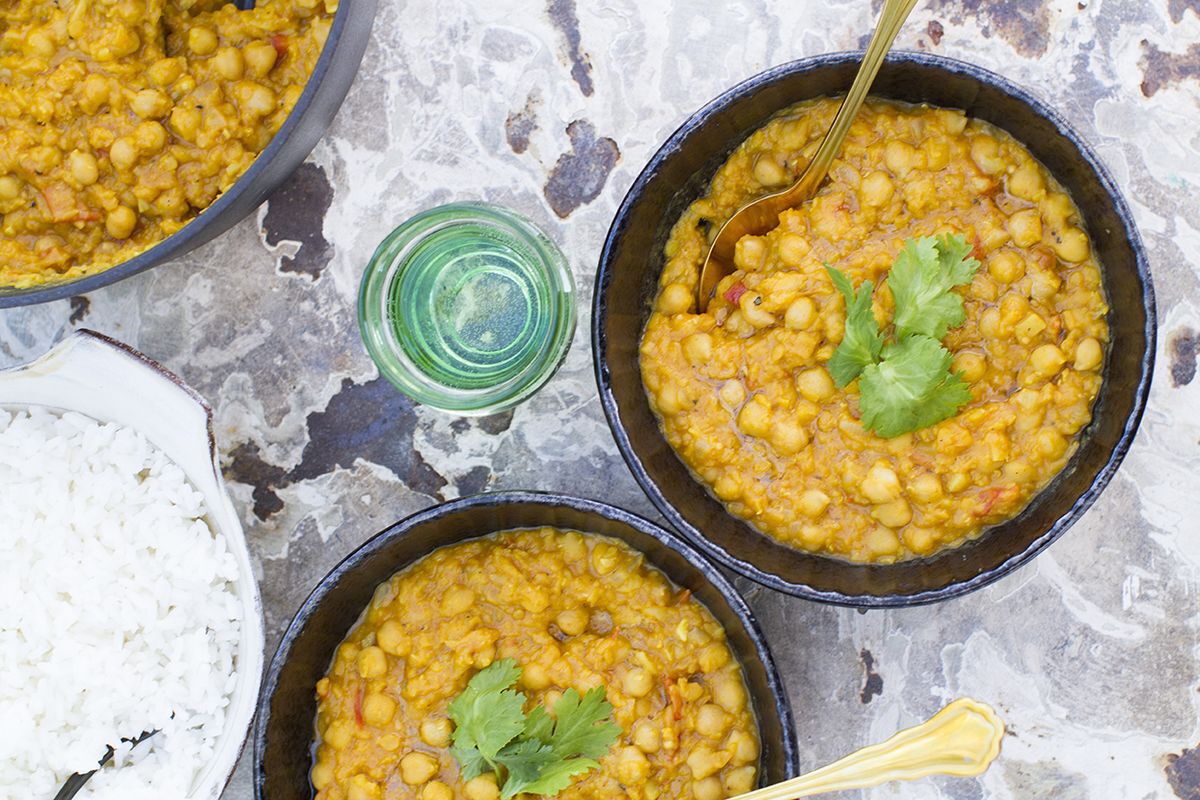 Indian Saag with Chickpeas
As long as I can remember, I've been crazy about Indian food, and saag especially is one of my favourite dishes. The Indian restaurant where we often used to go is still my favourite, and when I'm back in the Netherlands they always know exactly what I want to order. I love to make Indian food, because unfortunately we haven't found a great Indian restaurant on Ibiza yet.

Recipe for 4 people

Ingredients
3 tbs of butter or ghee (Indian clarified butter)
2 white onions, chopped
3 cloves of garlic, finely chopped
2 tsp cumin
3 tbs fresh ginger, peeled and finely chopped
2 tsp coriander powder
2 tsp chili powder
¼ tsp turmeric
3 tbs tomato puree
800 g chopped frozen spinach, thawed
500 ml cream
2 tsp garam masala
500 g drained chickpeas from a jar
salt and freshly ground black pepper to taste
250 g jasmine rice
2 handfuls of fresh cilantro, sliced finely
Preparation
1. Prepare the rice according to the instructions on the package.
2. Heat the butter or ghee in a pan and then add the onion. Stir a few minutes, then add the garlic and cumin. Stir until the onions start to become translucent.
3. Add the ginger and stir thoroughly for five minutes.
4. Add the thawed spinach and stir this through the onion and spices. Then add the chickpeas, pour the cream in and stir the garam masala throughout. Use salt and pepper to taste.
5. Bring everything to a boil and let it simmer for 5 minutes in a covered pot.
6. Garnish with some fresh coriander and serve with rice.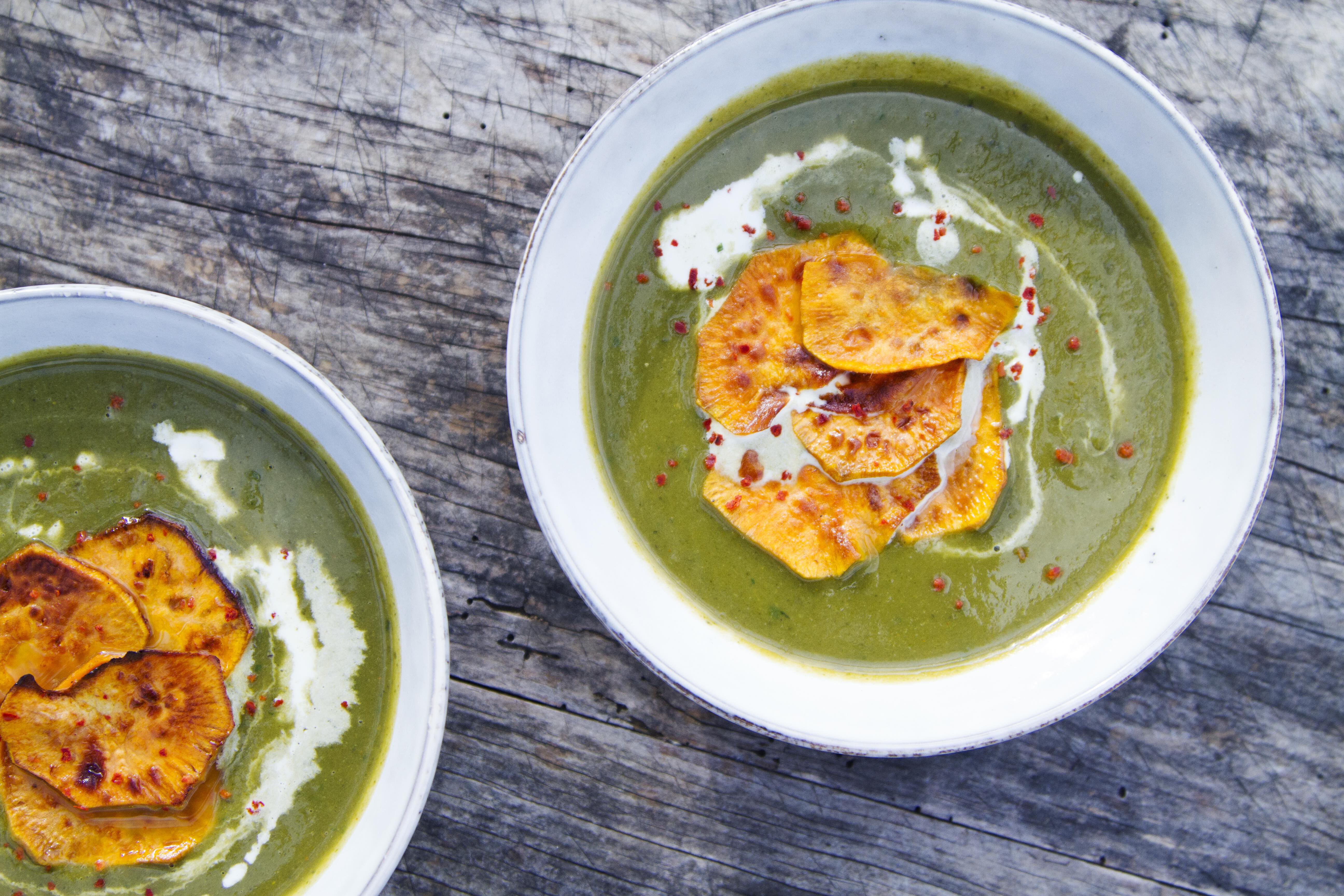 Indian Kale Soup
Comfort food doesn't have to be bad for your body. This delicious soup contains kale, which is low in calories and extremely high in fibre. The sweet potato chips give it a crunchy texture—a true treat for your taste buds.
Recipe for 4 people


Ingredients
1 L bouillon, made from 2 vegetarian and organic vegetable bouillon cubes
1 big white onion, diced
2 cloves of garlic, finely sliced
4 tbs mild olive oil
300 g sweet potatoes, and some extra to slice into thin pieces for frying
½ tsp curry powder
½ tsp turmeric powder
200 g cut kale
1 handful of coriander
juice from half a lemon
organic soy cream to garnish
chili flakes to garnish
Preparation
1. Place a pan with 1 liter of water and two bouillon cubes on low heat until it starts to boil.
2. Stir the onion for about five minutes in 4 tbs of olive oil and then add the finely sliced garlic and cook for around one minute.
3. Add the blocks of sweet potato, the turmeric and the curry powder and cook it for around 5 minutes, stirring it often. Add everything together with the kale into the bouillon. Let it simmer under a covered pan for 20 minutes.
4. Meanwhile, fry some thinly sliced pieces of sweet potato in a drop of olive oil on low heat. Be sure to watch it closely, because it can burn fast.
}5. Remove the pan from heat, add the coriander and the lemon juice and use a hand mixer to turn into a smooth soup. Add salt and pepper to taste and drip some cream over the bowls.
6. Garnish with sweet potato chips and chili flakes to taste.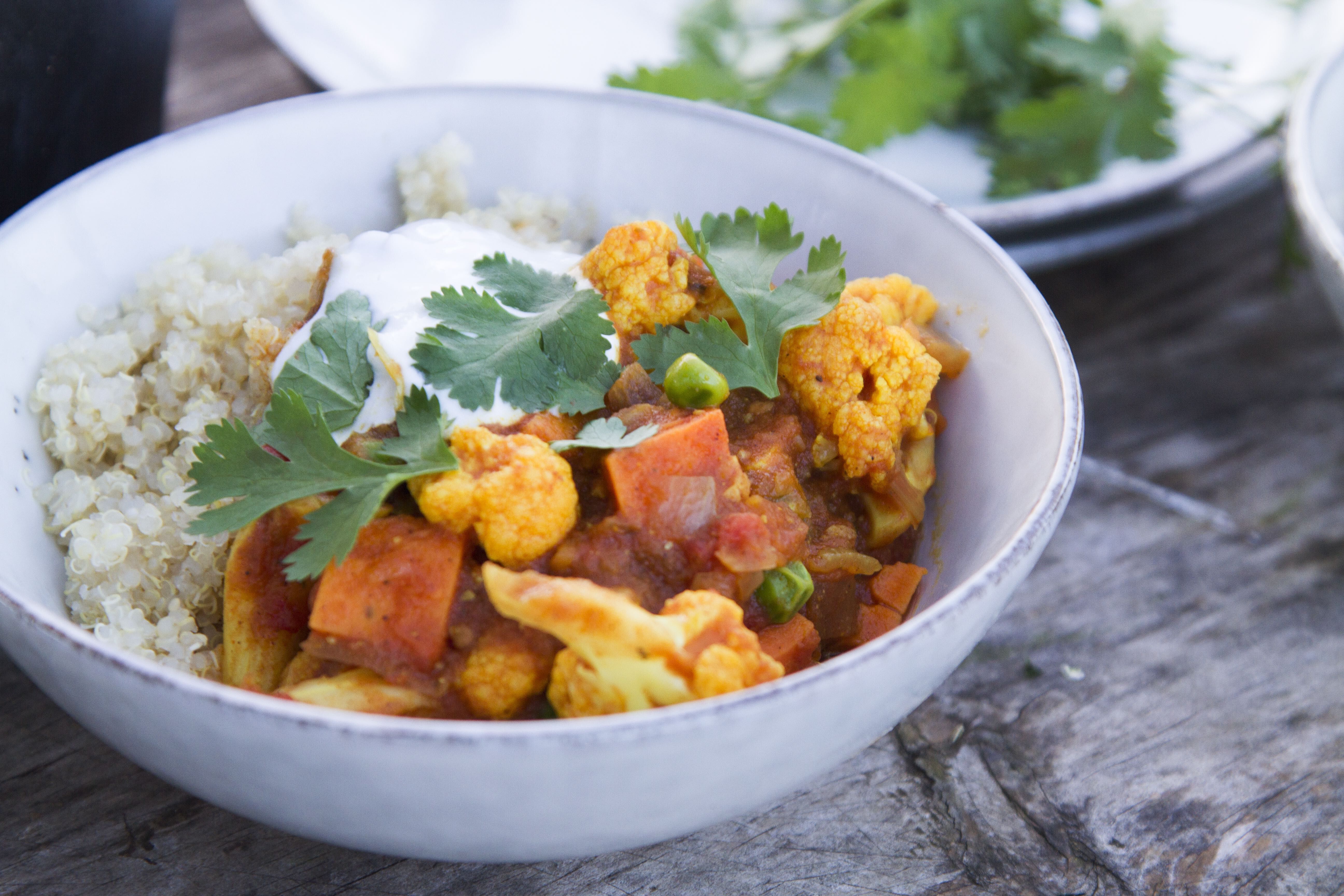 Cauliflower and Sweet Potato Masala

Masala is the Hindi word for "spice," and this Cauliflower and Sweet Potato Masala lives up to its name. Although it's often served as a side dish, this recipe is hearty enough to be an entrée. Serve it with brown rice or quinoa and it's a healthier alternative to the white rice version.
Recipe for 4 people


Ingredients
4 tbs regular olive oil
2 red onions, diced
4 cloves of garlic
2 tbs fresh ginger, finely chopped
1 tbs cumin
6 tomatoes, in small cubes
1 tsp turmeric
1 tbs Garam masala
1 tsp coriander powder
1 tsp chili powder
1 small to medium cauliflower (around 600 g) in florets
500 g sweet potatoes, peeled and in 1 cm cubes
200 ml water
150 g peas (frozen)
about 3 tsp salt and freshly ground pepper
small handful of coriander leaves to garnish
4 tbs Greek yogurt
brown rice or quinoa
Preparation
1. Prepare the rice or quinoa according to the instructions on the packaging.
2. Warm the oil in a tall pan (one with a lid) and add the diced onion and cumin. Mince the cloves of garlic with a press and add this along with the ginger. Cook for around 5 to 7 minutes, or until the onion slowly starts to colour.
3. Add the tomato cubes and cook while stirring for about 5 minutes, or until the tomato begins to look like a sauce.
4. Stir it vigorously and add cubes of sweet potato and the cauliflower. Cook it through and add the water. Bring the mixture to a boil, set the heat low and cover the pan with a lid. Stir occasionally for around 20 minutes, adding the peas in the last five minutes.
5. Serve with brown rice or quinoa, a tbs of Greek yogurt and some fresh coriander.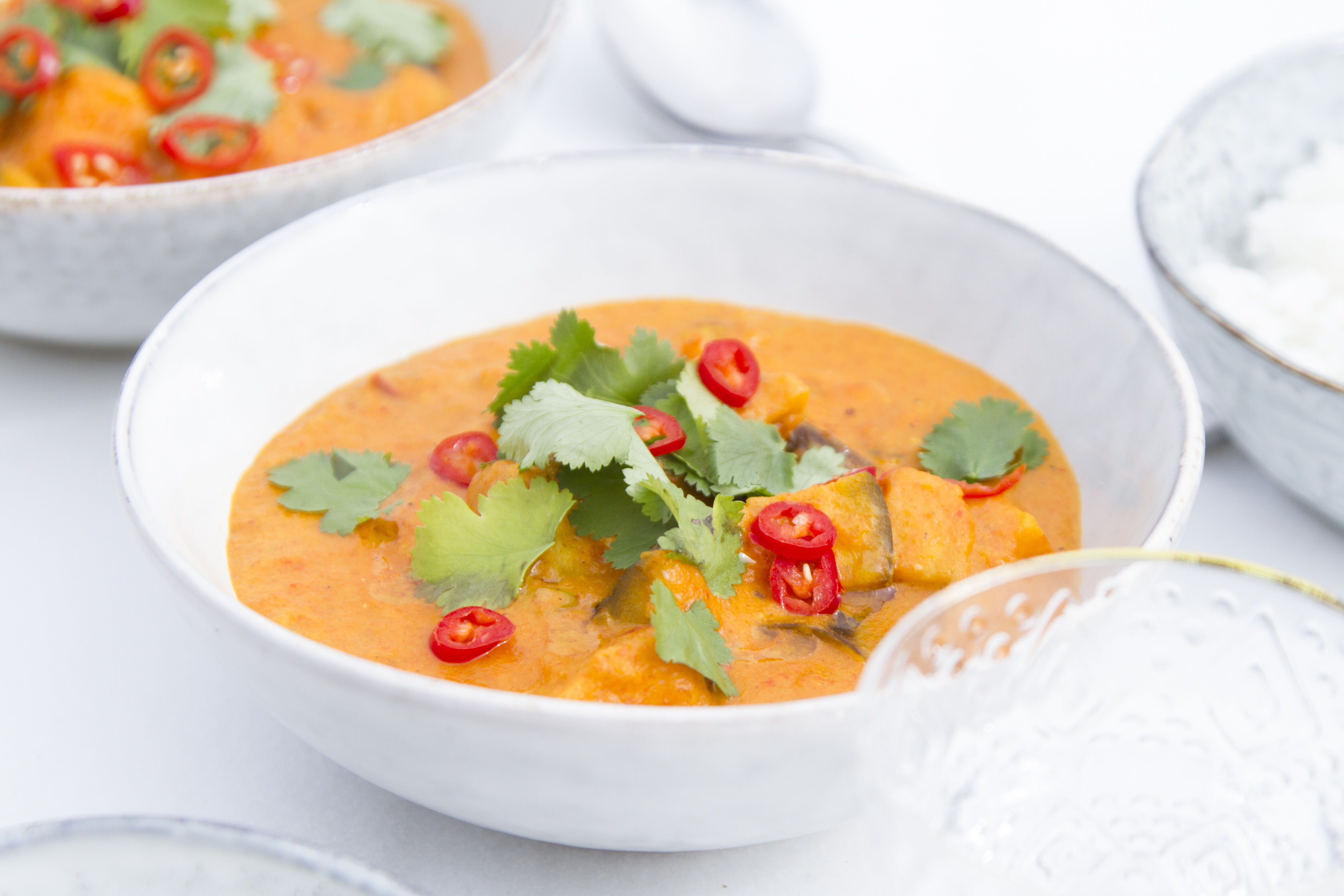 Red Pepper Curry
Who doesn't love a nice curry? Vegetarians will appreciate that it's meat-free, and the addition of the sweet potato and eggplant makes it filling and satisfying.
Recipe for 4 people
Preparation time: 45 minutes


Ingredients
2 large red peppers
400 g jasmine rice
1 large white onion, chopped
2 cloves of garlic, finely chopped
2 tbs olive oil
1.5 tsp turmeric
1 tsp cayenne pepper
¼ tsp cardamom powder
5 tomatoes in small cubes
400 ml coconut milk
2 tsp salt
1 large sweet potato, in 1 cm blocks
1 eggplant, in 1 cm blocks
2 spring onions in thin rings, only the light part
fresh coriander to garnish
1 red pepper in small rings to garnish, to taste
Preparation
1. Preheat the oven to 200 C. Lay the two red peppers in an oven dish and put it in the oven. Rotate it now and then until they start to blacken. This will take about 30 minutes. Afterwards, remove them and easily peel the skins from the peppers.
2. Meanwhile, make the rice as instructed on the package.
3. In the meantime, cook the chopped onion with the two thinly sliced cloves of garlic in 3 tbs olive oil. After 5 minutes, add 1.5 tsp turmeric, 1 tsp cayenne pepper and ¼ tsp cardamom powder.
4. Cook this for a bit and add the cubes of tomato. Stir it until it starts to look like a sauce. Remove from heat and wait until you can peel the peppers. Once you've done this, add them to the tomato mixture together with the coconut milk and puree this until it becomes a smooth sauce.
5. Add two tsp of salt, the cubes of sweet potato and the eggplant and let this boil for around 15 minutes, or until the sweet potatoes are al dente. In the last minute, stir the spring onion through.
6. Garnish with fresh coriander and thin rings of red pepper and serve with the rice.