We all know how important it is to apply sunscreen. Even on cloudy days we should be wearing a minimum of SPF 30 and in the summer months SPF 50 all with a broad-spectrum UVA coverage. But did you know there are lots of other clever ways you can be protecting and soothing your skin during the sunny weather? We called on three skin experts Dr. Sophie Shotter (founder of Illuminate Skin Clinic), Dr. Ross Perry (Medical Director of Cosmedics Skin Clinics) and consultant dermatologist Dr. Derrick Phillips to reveal the little-known sun care tips you should have on your radar. 
Eat salad
Well, tomatoes to be precise. "Eat lots of tomatoes," says Dr. Shotter. "They contain lycopene which is a powerful antioxidant and it has been shown in studies to protect the skin against UV induced damage."
Wear the right sunglasses
We're not talking about the most fashionable pair but ones with polarised lenses. "These will help to reflect light away from the eye area," notes Dr. Shotter. "This will help to reduce the risk of cataract formation in the eyes as well as protecting the delicate eye area."
Apply SPF early
"I advise always applying SPF at least 20 mins before heading outside," recommends Dr. Perry. 'Thoroughly coating your body before putting swimwear or clothes on will give the product the time it needs to be able to do its job." Dr Phillips emphasises this rule applies to all of us, not just the fair skinned. "Although those with darker skin may not seem to burn or show any early signs of sun damage, it is still happening. Darker skin produces a high amount of melanin, however, it cannot prevent all sun damage, so people all of skin colours should be wearing SPF every day."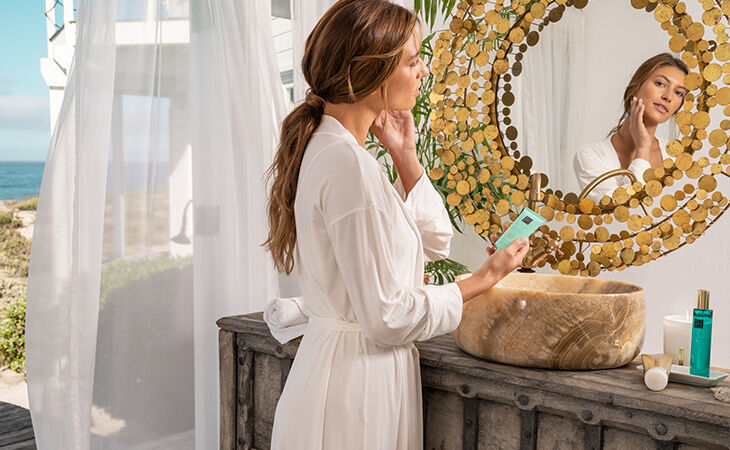 Supplement!
"Taking a good anti-oxidant supplement through the summer months can help to protect your cells further from UV damage. My go-to are the Heliocare 360 capsules, which contain a blend that makes your skin more sun-resilient," says Dr. Shotter.
Look to Aloe Vera
"Aloe vera or a product containing aloe not only soothes but aids the skin in healing and can also help prevent the peeling typically associated with sunburn," says Dr. Perry. Try The Ritual of Karma After Sun Shower Gel with Aloe Vera.
"A cool shower or a damp cool towel can help with sunburned skin but rather than rub your skin with a towel it's best to just pat the skin or let it air dry," adds Dr. Perry.
Oil up
"Antioxidants may be the next generation of sunscreen'" claims Dr. Phillips. Antioxidants are well known for their anti-ageing properties and new research shows they can also reduce your risk of skin cancer. Dr. Philips recommends adding an antioxidant-rich oil to your skincare routine before and after spending time in the sun.
Slather on your vitamins
"Moisturisers containing vitamin E will work well on sunburnt skin as they have antioxidants which help the skin to heal, minimising the amount of flaking that will ensue," explains Dr. Perry.
On your lips apply our Fortune Balms – Rescue Balm and take a shower after a day in the sun with The Ritual of Namaste Natural Nourishing Shower Cream, both contain nourishing and protecting Vitamin E.
Dr. Shotter adds that "if you layer a good vitamin C serum beneath your sunscreen, it can make your sunscreen up to 4 times more effective." Try applying our The Ritual of Namaste Vitamin C* Natural Booster before The Ritual of Karma Sun Protection Face Cream SPF50.
Exfoliate
Besides burning, the sun can also have a drying effect on our skin. "Exfoliating your skin with a scrub every 2-3 days will help remove any dead skin build-up and reveal a smoother surface underneath," advises Dr Phillips. "While darker skin produces more oils than white skin, it can still be prone to dryness. Gently exfoliating dry areas will stop excessive build-up that clogs the pores and can lead to further skin concerns. Ensure you don't use a harsh product or over-exfoliate, as this can damage the surface of the skin and cause dark spots to appear." With our Scrub Therapy Collection, you can choose between mild, moderate and a more intense scrub to suit your skin's individual needs.
Dress unexpectedly
In summer, it's totally normal to reach for the natural linen and white cotton clothes in your wardrobe but Dr. Shotter tells us that "wearing darker coloured clothes acts as a filter on bright days, helping to decrease the amount of UV that reaches our skin." So, switch it up this summer.
Don't be fooled
Opting for a nice cool spot in the shade on a sunny day, you might feel as though you're hidden from the sun, right? Don't be fooled – you're not out of the danger zone. "Sun rays can reflect from light-coloured surfaces and bounce back onto us in the shade," explains Dr Phillips. "Light surfaces such as concrete, sand and water reflect more than darker surfaces, meaning whilst sitting under our umbrella on the sand, we are still open to 25-30% of UV rays we don't think are affecting us."
DIY sunburn remedy
"A natural sunburn remedy is baking soda which can be used to help with sunburn," says Dr. Perry. "When mixed with water and applied, baking soda's alkaline properties can really soothe skin that's in pain."
Pop a pill
Both experts agree that Ibuprofen can relieve sunburn swelling and pain all over your body. Dr. Perry adds that, "taking antihistamines will also help too, but the take home message is don't get burnt and don't try and aim for a cheeky tan either."