In today's video Mo explains how technology can become a tool for joy, the pitfalls to avoid, plus the simple tech switch-ups to help create positive moments.
Article: Do the mindful tech check
Technology is proven to boost loneliness, but with our expert advice you'll create meaningful and joyful moments when spending time online.
Technology was designed to connect the world. But research has shown that when we become addicted to our screens and spend too much time on technology it can lead to an increase of loneliness and isolation. Ensure all your devices are adding positivity to your day with our simple prompts to add more joy to online time:
Can you make it more personal?
Swap your usual text message, email or typed WhatsApp for a voice note instead. 'Hearing a real voice creates an instant connection that you can't replicate with characters or symbols. It's the equivalent of an audio postcard,' says Rituals' ambassador, Mo Gawdat.
Can you make it a new experience with friends?
With friends scattered around the globe use your technology to discover things you can't experience together. Screen share Japanese weather site, Weather News, and experience a virtual tour of the Sakura blossom trees, or go on a virtual hike through Yosemite park without any of you having to break a sweat.
Can you enlighten your kids?
Instead of arguing about how much tech time your kids have, reframe how you use technology together. Yes, together. "The worst thing you can do is shield your children from technology because they will go there without you," says Mo. "You need to show them the difference between it creating joy - where you're connecting with a friend or exploring a video, not just having fun playing a video game, and when it's working against them, causing physical pain or taking them away from the outside world." Find something that holds both of your interests and means you're spending quality time together using technology. For example, if your child loves gymnastics, find old Olympic gymnastics routines to watch. If you love baking together, search for amazing recipes you can recreate together.
Can you meet like-minded people?
One of the best ways to beat loneliness is to meet real-life humans in real life and ironically using technology is a great way to make that happen. Find groups that are interested in the same thing you are, whether that's fellow dachshund owners who meet up in a park once a month or fellow knitting enthusiasts. Technology is an amazing instrument to help enable IRL meet-ups.
Can you turn mindless scrolling into something more?
There are always going to be moments when you want to mindlessly scroll, and that's fine as long as you set boundaries. "Set a timer for seven minutes - five minutes doesn't feel like enough but 10 minutes is too much," advises psychologist Jess Baker. "In that time find one thing that makes you smile and find a post from someone you know in real life, comment and like it so you're putting some happiness out into the world giving your mindless scrolling positive purpose."
Can you audit your notifications?
"We think that little red dot that's indicating a new email or message, is telling us we're missing out, but it's not. Most of those messages will be junk or other's people's news and not relevant to you, so turn off your notifications and only go to your technology when you need to," advises Mo.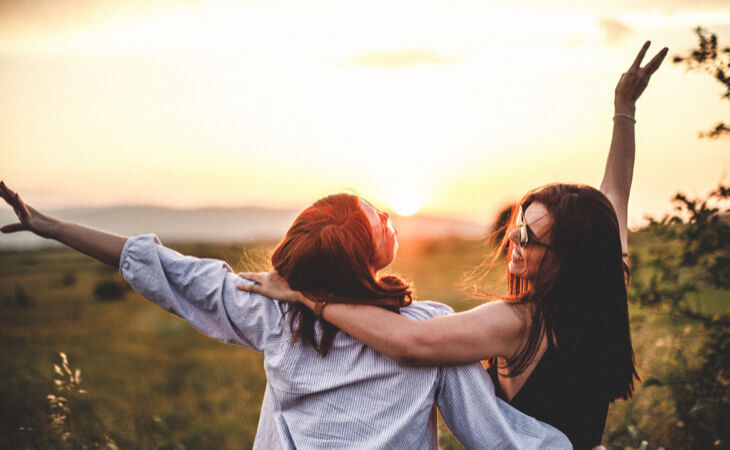 Task: Spread some surprise joy
Today, let's spread a little joy to the special people in your life.
Post a compliment
Is there someone you haven't seen in a while? Perhaps someone you have been meaning to call. Today, send them a meaningful compliment... just because! And, instead of reaching for your phone, make it meaningful by handwriting the message on a postcard and sending it to them the old-fashioned way. Sending a note in the post is one of those nice ideas that we never seem to find the time to do, so today make it happen. Jot down a few words that will make them smile and pop it in the post or through their letterbox.
We want to help spread the joy far and wide, so why not share a picture of the pre-written postcard on your social media with the hashtag #joytotheworld to inspire others to send a handwritten note too. Just think, if three of your friends sent a card, and then three of their friends did the same and so on, the ripple effect of joy could be far reaching.
Share the Masterclass
If you're enjoying this Joy to the World Masterclass and think your friends or family could benefit, then why not share it with them? To make it easy, we have prepared a ready-made email with a link to the Masterclass, so all you have to do is tap the link and input the recipient's email address. Easy!
Click here to email someone special a link to this Joy to the World masterclass.
Let loose
Next time you're with friends and family, soundtrack your time together with our Happiness & Joy playlist, designed to help create a joyful ambience. One study found that engaging with music has a positive effect on subjective wellbeing, especially when experienced with others. So, play some tunes and get your dancing shoes on.
In fact, we have a selection of different playlists on Spotify designed for different moods so give them a listen and share your favourites with your friends or family.
You've almost reached the last day! Click here as Mo delves into AI and how it can affect us, plus easy tips to make your social media feed a happier place.