Dukkah is an Egyptian mix of roasted nuts, seeds and herbs that instantly adds a great Eastern twist to this simple breakfast. Once it's made, you can keep the golden mixture in a closed, dry container for a long time to enjoy it again with this dish or other ones.

Recipe for 2 people
Preparation time: 20 minutes


Ingredients
40 g almonds (unsalted)
40 g pistachios (unsalted)
2 tbs coriander seeds
2 tbs cumin seeds
40 g coconut flakes
1 tbs Nigella seeds
½ tsp sea salt
½ tsp freshly ground pepper
focaccia for two people, sliced open
full-cream butter
1 avocado
2 tbs lime juice
salt and pepper
2 eggs
2 tbs (unsweetened) nut milk
2 tbs olive oil
2 tbs dukkah (approximately, per person)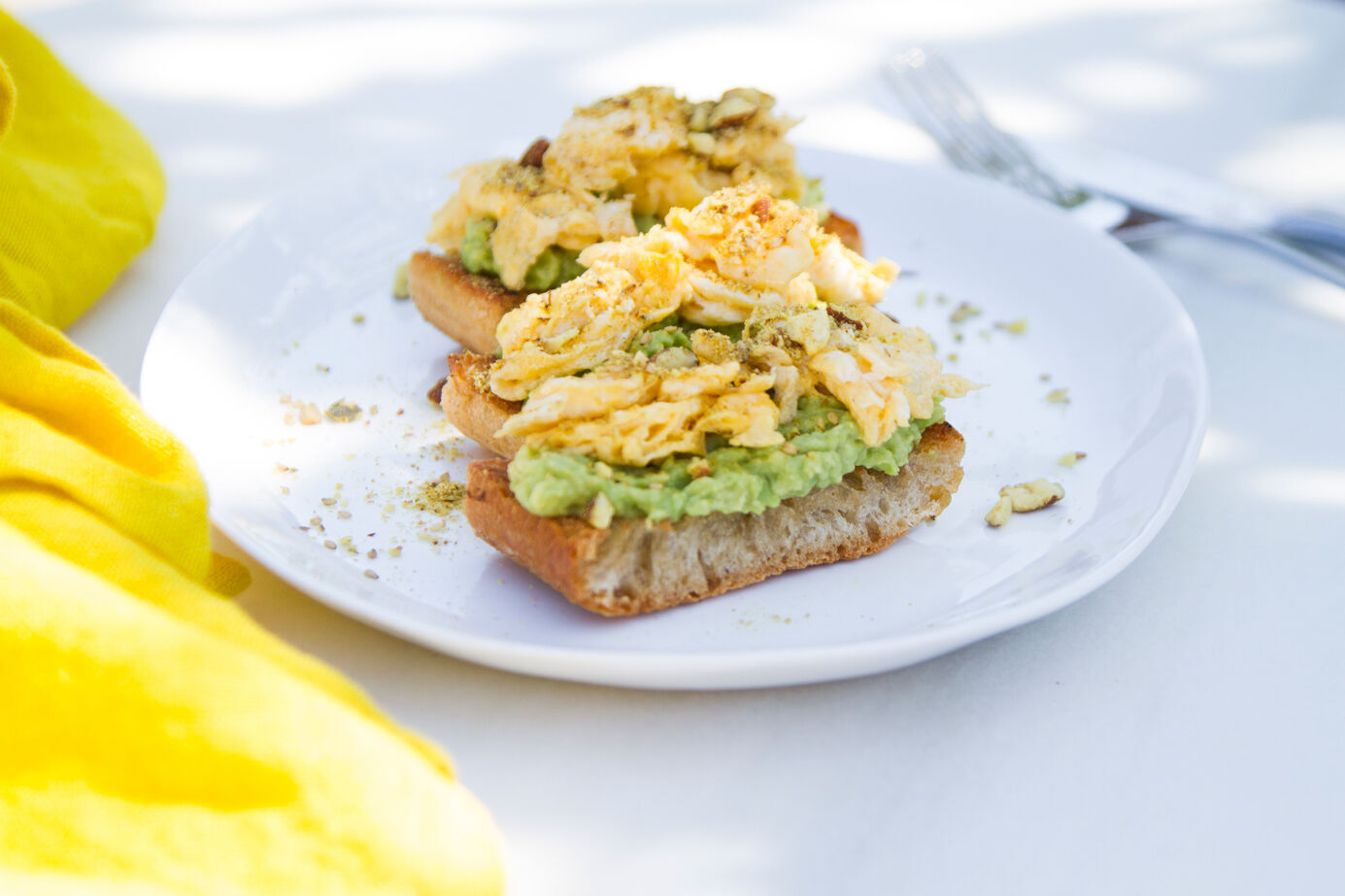 Preparation
1. Finely chop the almonds or use a mortar and pestle. Add the pistachios.
2. Toast the coriander seeds and the cumin seeds but be careful not to burn them and add the almonds. Let them cool off a bit.
3. In the meantime, toast the coconut flakes in a dry pan no longer than 2 minutes. Add them to the rest of the ingredients and ground them with a mortar and pestle until they are relatively small.

4. Stir the Nigella seeds through, adding salt and pepper, and the dukkah is ready!
5. Mash the avocado together with the lime juice and add pepper and salt to taste. Smear the flat end of the focaccia with butter and cook this on both sides until it begins to colour a golden brown.
6. Beat the eggs with the milk and a dash of salt and pepper and stir over heat until it becomes a nice scrambled egg, in a pan with 2 tbs of olive oil.
7. Spread the toast with the avocado mixture, put the egg on top and then sprinkle it with the dukkah.