We've made a huge commitment to achieving Net-Zero by 2050 and the next ten years are going to be crucial. Here's why and how we're going to reach that finish line
The race is on - we are committing to Net-Zero. Earlier this year, we were proud to announce that Rituals became a Certified B CorporationTM and when we said that was just the beginning of our journey to sustainable wellbeing, we weren't kidding. On this journey, we are revving things up, because our pledge comes with a time limit. We are committing to reducing our greenhouse gas emissions per product by 50% by 2030 compared to 2021, with the goal of achieving Net-Zero by 2050. Here's why this is so important to us, and how we are going to achieve it.
What is Net-Zero?
You might have heard the term Net-Zero but what does it really mean? It's a complex concept, but simply put, Net-Zero means cutting greenhouse gas emissions to as close to zero as possible. Think of a very full bath. To make sure it doesn't overflow, you need to both turn off the tap (reduce emissions) and pull the plug to let it drain (removing emissions from the atmosphere). At the moment, 51 billion tons of greenhouse gasses are emitted into the atmosphere each year and by 2050, this needs to be zero. Right now, the world is already 1.1° C warmer than it was in the late 1800's and, as stated in the Paris Agreement, this can't rise above 1.5° C or … let's not even go there. So, the race is on.
The race to zero
In our commitment to Net-Zero, we are joining 5,232 businesses, 1,049 cities, 67 regions, 441 of the biggest investors and 1,039 Higher Education Institutions in the largest ever alliance committing to Net-Zero by 2050. Each member of this coalition has science-based targets to achieve their goal. Collectively, these members now cover 25% of global CO2 emissions and together we have one aim: to save the planet. So, this is the goal for 2050, but climate activists like Greta Thunberg have championed the point that the next ten years will be the most crucial time for us to act. This is recognised by the Science-Based Targets initiative and The Race to Zero campaign, with all members committing to a mid-term goal. Rituals has committed to cutting emissions per product by 50% by 2030 and this is how we're going to do it.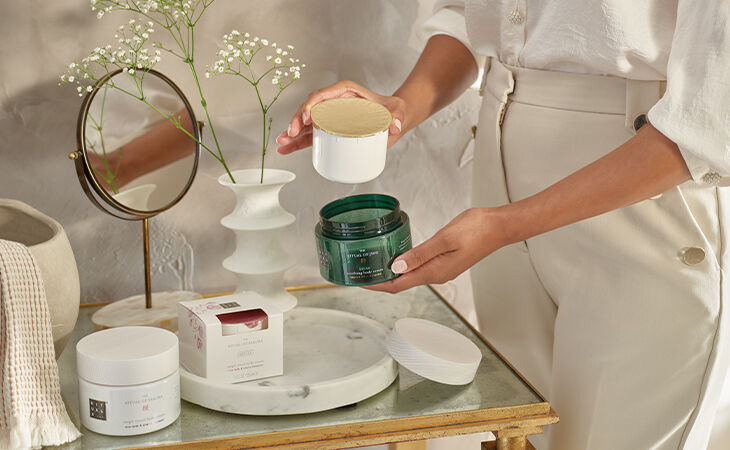 Ingredients
By

the end of this year

, all our personal care formulas will be made of 90% natural origin ingredients.

(See our sustainability report

for more details of which products this includes.)

We're working with our perfumers on creating eau de parfums that have a lower environmental impact.

We aim to use only use traceable or environmentally friendly ingredients (e.g. coconut oil).

We're exploring using solids and concentrated formulas (e.g. soap bars).
Packaging
We will keep adding to our collection of refills to reduce packaging waste.

We ensure all our packaging materials are recyclable or made of recycled materials.

With our suppliers, we'll work on creating packaging made of recycled aluminium for our iconic foaming shower gel (our bestselling product), which will have a lower carbon footprint.
Operations
All our stores run on green electricity and have energy-saving appliances (like LED lights) and we will continue to ensure this for every new store opening.

For new store designs, we are increasing the amount of recycled and responsible materials.

All our stores receive their stock by truck deliveries, and we aim to reduce how many times a week these deliveries take place by making them more efficient.

We are working with our logistics suppliers to ensure low-impact shipments.
Climate compensation
For carbon emissions related to our store operations, we will offset these by supporting certified carbon projects.

We will develop and implement a carbon removal plan to further soak up emissions from the atmosphere.
Next to that, we launched our 'Be the Change' campaign. We have committed to planting, protecting or restoring a tree for every refill purchased supporting projects that are helping to restore some of the world's most biodiverse areas. You can find out more information on our tree planting projects here.
We know that our Race to Net-Zero isn't going to be easy, but it certainly is important and we hope you join us on this journey.